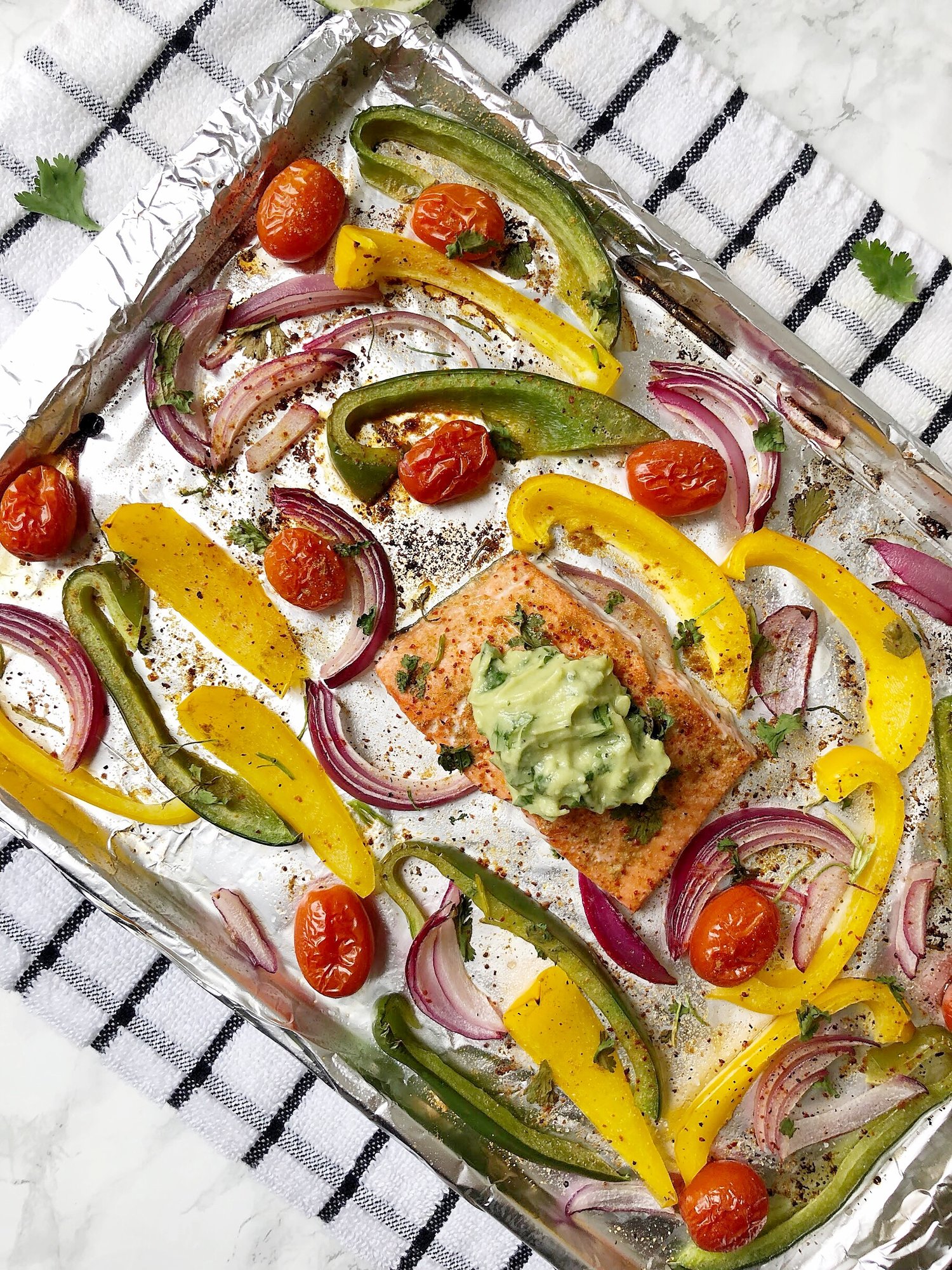 This healthy sheet pan dinner of fajita salmon and veggies is an easy and delicious weekday meal. Top with cilantro and guacamole for an extra boost of nutrients.
It's tough to keep weeknight dinners fresh and interesting. If you find yourself eating the same foods week after week, spice things up with this healthy sheet pan dinner of fajita salmon and veggies. This recipe requires minimal cleanup and cooking experience, and makes great leftovers for the next day.
The best part…it only takes 20 minutes to prep and cook, making it the perfect healthy and quick meal.
We've written about omega-3 fats a lot on the blog, and salmon is by far our favorite way to get these essential fats.
At Culina Health, we get a ton of questions about wild-caught versus farmed salmon. While we think the verdict is still out on this one, wild salmon generally does have a better nutrition profile than farmed salmon. Wild salmon is higher in minerals like calcium and zinc, has a better omega-3 to omega-6 ratio, and is lower in toxins like PCBs and dioxins compared to farmed salmon (1, 2).
However, sustainably farmed salmon has the potential for safeguarding the world's salmon population and the animal species that depend on it for survival. Bottom line, if you are going to choose farmed salmon, make sure it comes from a trustworthy farm that practices sustainable fishery and feeds their fish seaweed and not corn.
Want to learn more about the nutrition benefits of salmon and the other superfoods in this recipe? Check the nutrition facts below!
Healthy Sheet Pan Dinner Nutrition Facts
SALMON
Wild-caught salmon is great source of omega-3 fatty acids, B12, vitamin D and selenium. This high quality protein has all of the essential amino acids and has been well researched for many health benefits, including cardiovascular benefits, improved mood and cognition, eye health, and anti-cancer benefits (3, 4, 5, 6).
Additionally, omega-3 fatty acids fight inflammation in the body and support cell, nervous system, and brain function.
Recommended Reading: Can Omega-3 Fatty Acids Help Your Depression?
CILANTRO
Cilantro, also known as coriander, is powerful herb that has anti-bacterial/parasitic, antioxidant, and chelation effects.
Studies have found that cilantro has the ability to remove mercury, lead, and aluminum from body tissues, supporting the body's detoxification system (7). It also contains anti-inflammatory compounds like carotenoids and lutein, and has been found to lower anxiety in animal studies (8).
AVOCADO
Avocados are an amazing source of monounsaturated fats, fiber, vitamin K, and B5 (pantothenic acid). The monounsaturated fats in avocados are well-researched for their heart health benefits. Additionally, they've been found to protect against cancer and insulin resistance (9, 10, 11).
---
One-Pan Cilantro Lime Salmon
A quick, easy, nourishing and DELISH dinner recipe. It's perfect for busy weeknights, and it's super customizable!
Ingredients
2

4-oz fillets

wild-caught salmon, skin on

1

cup

organic cherry tomatoes

2

large bell peppers, sliced

1

medium red onion, sliced

1/2

lime, juice

1.5

tbsp

fresh cilantro, chopped

ground cumin, to taste

garlic powder, to taste

Himalayan salt, to taste

chili powder, to taste
Cilantro Lime Guacamole
1/2

avocado, mashed

1

tbsp

fresh cilantro, chopped

1/2

tbsp

freshly squeeze lime juice

1/2

tsp

garlic powder

1

tbsp

unsweetened plant milk

coconut milk is my fav for this recipe!

Himalayan salt & pepper, to taste
Instructions
Preheat oven to 400 degrees Fahrenheit. Spray a baking tray with non-stick cooking spray OR layer with parchment paper.

While the oven preheats, slice your bell peppers and onions. Leave the cherry tomatoes whole.

Place your salmon fillets skin side down on the baking tray and surround them with the veggies.

Season the salmon and veggies with ground cumin powder, garlic powder, the chopped cilantro, salt, and chili powder (all to taste). Take the ½ of the lime and squeeze over the veggies and salmon.

Place in the oven to bake for 15-18 minutes at 400 degrees Fahrenheit.

In the meantime, prepare the guacamole topping in a small bowl. Add in all the ingredients and thoroughly mix and mash together. The consistency shouldn't be too thick or too thin so adjust the plant-based milk as needed.

Once the salmon and veggies are done, transfer onto a plate and top with the Cilantro Lime Guacamole, and enjoy!
Notes
You can store leftovers in the fridge in an airtight container for up to 5 days.
For meal prep, simply double the recipe to give you four servings!
You can bulk up the meal by adding this all on top of a bed of greens, wild rice, or quinoa.
Let us know how you like the recipe in the comments. Tag @CulinaHealth and @healthnutgab on Instagram and show us your creations!
9/15/20
Tight on Time? Make This Healthy Sheet Pan Dinner
written by:
Tamar Samuels